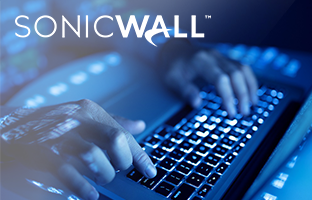 Leer alle ins & outs over de oplossingen van SonicWall tijdens de Security Jump-Start sessie
SonicWall blijft maar in de prijzen vallen! Deze keer is SonicWall's Email Security overall winnaar geworden in de Annual Report Card (ARC). Reden genoeg om weer eens een event te organiseren samen met SonicWall. Op woensdagochtend 19 september organiseert Alcadis in samenwerking met SonicWall de Security Jump-Start sessie.
Wilt u meer weten over securityoplossingen? In deze jump-start sessie leert u alle basics van de SonicWall securityproducten in een interactieve setting. Met complete network security oplossingen onderscheidt SonicWall zich op het gebied van secure remote access, web- en e-mail security, backup and recovery en policy en management solutions. Het aanbieden van zowel appliances software-based producten en value added subscription services geeft organisaties de kans om deep secure protection toe te passen zonder verlies van netwerkprestaties.
Programma
Tijdens de Security Jump-Start sessie worden de volgende onderwerpen behandeld:
Why is a next Generation Firewall needed
Creating a MySonicWALL account
Registering the appliance on MySonicWALL
Configuring the appliance using the Wizard
Completing the registration
Enabling Security Services on the appliance
Enabling and configuring Capture Advanced Threat Protection
Configuring a basic CFS Policy on the appliance
John Aarsen, Solutions Architect bij SonicWall, zal deze Jump-Start sessie verzorgen. Voor deze sessie geldt een maximaal aantal deelnemers van 8 personen en u dient een laptop met adminrechten mee te nemen. Meld u dus snel aan via onderstaand formulier.
Inschrijven
Dit evenement is volgeboekt. U kunt nog wel een mail sturen naar marketing@alcadis.nl en wij zullen contact met u opnemen.