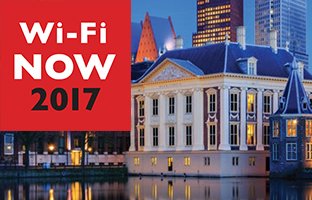 Wi-Fi NOW is de enige expo en conferentie ter wereld die 100% aan Wi-Fi is gewijd. De gehele Wi-Fi industrie wordt tijdens dit driedaagse evenement samengebracht. Elke dag staat in het teken van een bepaald onderwerp omtrent Wi-Fi:
Dag 1: Enterprise & In-home Wi-Fi
Dag 2: Innovation & Wi-Fi for Cities
Dag 3: Carriers & Disruptive Technology
Alcadis is sponsor van Wi-Fi NOW en zal een innoverende presentatie geven over In-home Wi-Fi. Tijdens deze dagen wordt er ingezoomd op de volgende onderwerpen:
City Wi-Fi on the rise
Disruption or Convergence?
New Wi-Fi Business Models  & Monetization
A New Breed Of Wi-Fi Service Providers: From Cable To Wi-Fi First
Hotspot 2.0 (NGH) Or OTT?
Performance, Performance, Performance!
Consumer Engagement For Venues
High-Density Wi-Fi
Wi-Fi That Matters: Cities & Governments Institutions
Wi-Fi Calling For Carriers
Security In Focus
Building The Perfect Wi-Fi Core Network
LTE-U/LAA vs. Wi-Fi – Is It A Real Threat To Wi-Fi?
Alcadis nodigt u graag uit om dit evenement bij te wonen en bieden u een korting van 20% aan. Om gebruik te maken van deze korting kunt u de volgende kortingscode gebruiken: AlcadisWFNEU20
Bestel uw tickets hier of kijk voor meer informatie op de website van Wi-Fi NOW.